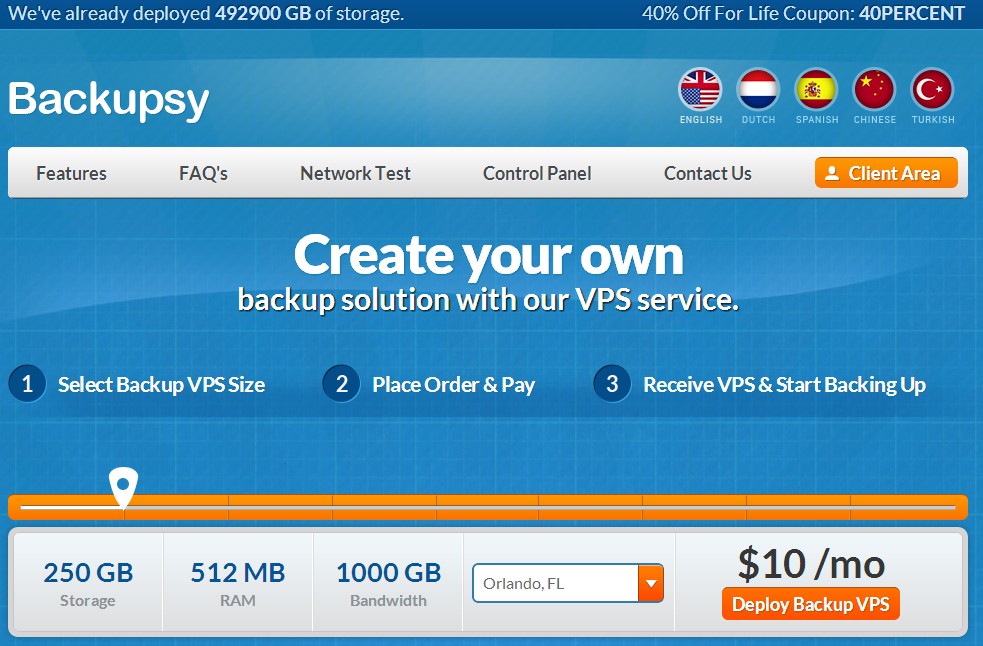 [THE PLANS]
Quote:
[MINI FAQ]
Q: What's the difference between Backupsy and other backup services?
A: With Backupsy, you'll actually get a KVM VPS with 512MB RAM and high storage such as 250GB, 500GB, 1000GB, 2000GB and you would be able to configure it any way you like.
Q: I don't know how to configure my VPS for backups. Can you help?
A: Gladly. We will help you to configure your current VPS or Dedicated Server to backup to our Backupsy VPS for you.
With the help of our in-house built control panel (see screenshot below) that is integrated with our billing system, you'd be able to install your operating system manually or automatically by using Kickstart or Preseed.
We are offering a wide range of operating systems such as CentOS, Ubuntu, Debian, ArchLinux, Openfiler, FreeNAS, OpenmediaVault, TurnkeyLinux File Storage, TurnkeyLinux ownCloud. Furthermore, we are able to load any ISO file you'd like to use.
Our TOS is linked here: https://backupsy.com/tos.html
[REVIEWS]
http://www.webhostingtalk.com/showpo...99&postcount=1
http://www.webhostingtalk.com/showpo...43&postcount=2
http://www.webhostingtalk.com/showpo...03&postcount=3
http://www.webhostingtalk.com/showpo...65&postcount=5
http://www.webhostingtalk.com/showpo...95&postcount=7
http://www.webhostingtalk.com/showpo...69&postcount=8
http://www.webhostingtalk.com/showpo...2&postcount=13
http://www.webhostingtalk.com/showpo...9&postcount=15
http://www.webhostingtalk.com/showpo...0&postcount=14
http://www.webhostingtalk.com/showpo...80&postcount=6
http://www.webhostingtalk.com/showpo...83&postcount=7
http://www.webhostingtalk.com/showpo...73&postcount=2
http://www.webhostingtalk.com/showpo...05&postcount=5
http://www.webhostingtalk.com/showpo...71&postcount=6
http://www.webhostingtalk.com/showpo...51&postcount=7
http://www.webhostingtalk.com/showpo...47&postcount=9
http://www.webhostingtalk.com/showpo...5&postcount=10
http://www.webhostingtalk.com/showpo...74&postcount=6
http://www.webhostingtalk.com/showpo...86&postcount=8
http://www.webhostingtalk.com/showpo...61&postcount=6
http://www.webhostingtalk.com/showpo...28&postcount=2