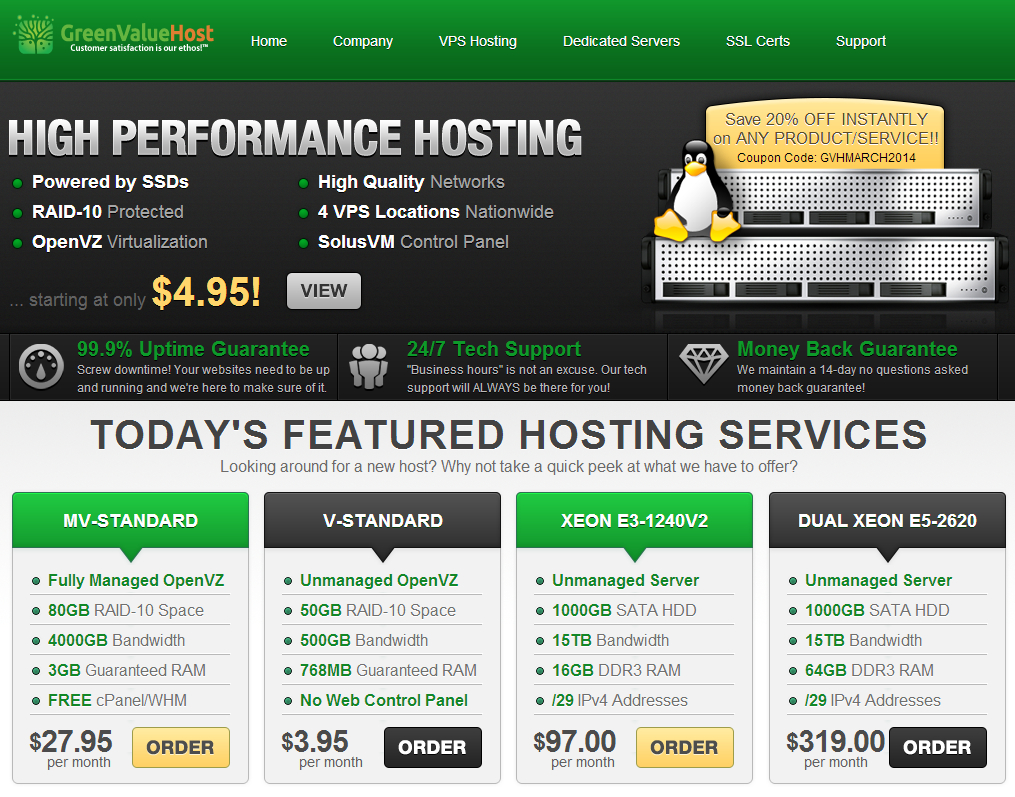 In spirit of International Earth Day (the original Earth Day, celebrated on the March equinox), we are having a limited time only sale from March 20th-March 21st!
"International" Earth Day was founded by John McConnel and declared official on March 21, 1970 by San Francisco, California to encourage people of all nations, cultures, and religions to come together to advance peace, justice, and earth care. We at GreenValueHost would like to do our part in caring for the earth by having this International Earth Day sale and donating 10% of all profits/proceeds to benefit The Nature Conservancy's effort to plant trees to restore and preserve forests around the globe (read more information here: http://plantabillion.org). $1.00 will help plant 1 tree, and we need your help to donate as much funds as possible to save the environment! Special coupon codes & promotions are listed below:
Managed VPS: Save 40% OFF Recurring on ANY Managed VPS Plan on ANY Billing Term
Coupon Code: IEDW40OFF
Unmanaged VPS: Save 60% OFF Recurring on ANY Unmanaged VPS Plan on ANY Billing Term
Coupon Code: IEDW60OFF
Unmanaged VPS: Save 70% OFF Recurring on ANY Unmanaged VPS on YEARLY Billing Terms
Coupon Code: IEDW70OFF
Dedicated Servers: Save 75% OFF your FIRST MONTH payment on ANY Dedicated Server
Coupon Code: IEDW75OFF
Additional IPv4 Addresses: FROM NOW UNTIL THE END OF MARCH 21st, all additional IPv4 address purchases are 50 cents per month each!! (Minimum quantity of 5 and valid justification required)
To claim the IPv4 addresses promotion, just open a ticket to our sales department!