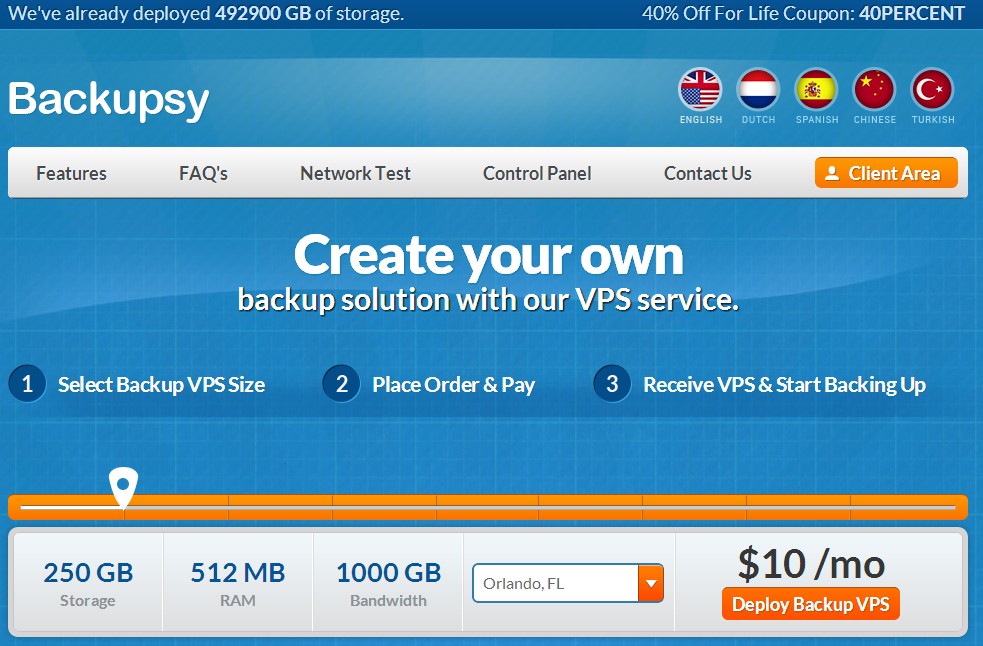 Backupsy is considered as one of the cheapest storage VPS these days in webhosting market. I have had a 500G storage VPS from them for more than 8 months. It's been running smooth with decent uptime. The support is  fast and helpful. I would like to share this hidden offer to you guys. At the moment the biggest coupon you can get is 50% (code: happybirthday) which will bring you $10/mo for a 500G VPS. However I managed to get this following link for you, which only costs you $7/mo to get a 500G VPS. Enjoy.
Storage VPS - KVM500LEB
1 vCPU Core
512MB RAM
500GB RAID50 Diskspace
2000GB Bandwidth
1 IPv4 Address
KVM / Custom Panel
$ 7.00/Month | Buy Link
Chicago: http://204.145.72.4/1000MB.test
Dallas: http://69.12.95.3/1000MB.test
Orlando, FL http://198.49.79.4/1000MB.test
Denver: http://162.213.216.131/1000MB.test
Los Angeles: http://162.217.135.4/1000MB.test
New York: http://204.145.81.4/1000MB.test
Netherlands: http://192.71.151.4/1000MB.test
UK: http://185.38.46.4/1000MB.test
US Locations are allowed to run software / OS that assists backing up, owncloud, private VPN / Proxy, development, monitoring and other light CPU and IO intensive applications except Torrents, TOR and Game Servers. NL & UK Locations are allowed to run anything except Digital Currency Mining, Torrents, TOR, Game Servers, Public Proxies and anything illegal.