Iniz – KVM in New York, NY and OpenVZ in New York, Los Angeles and Amsterdam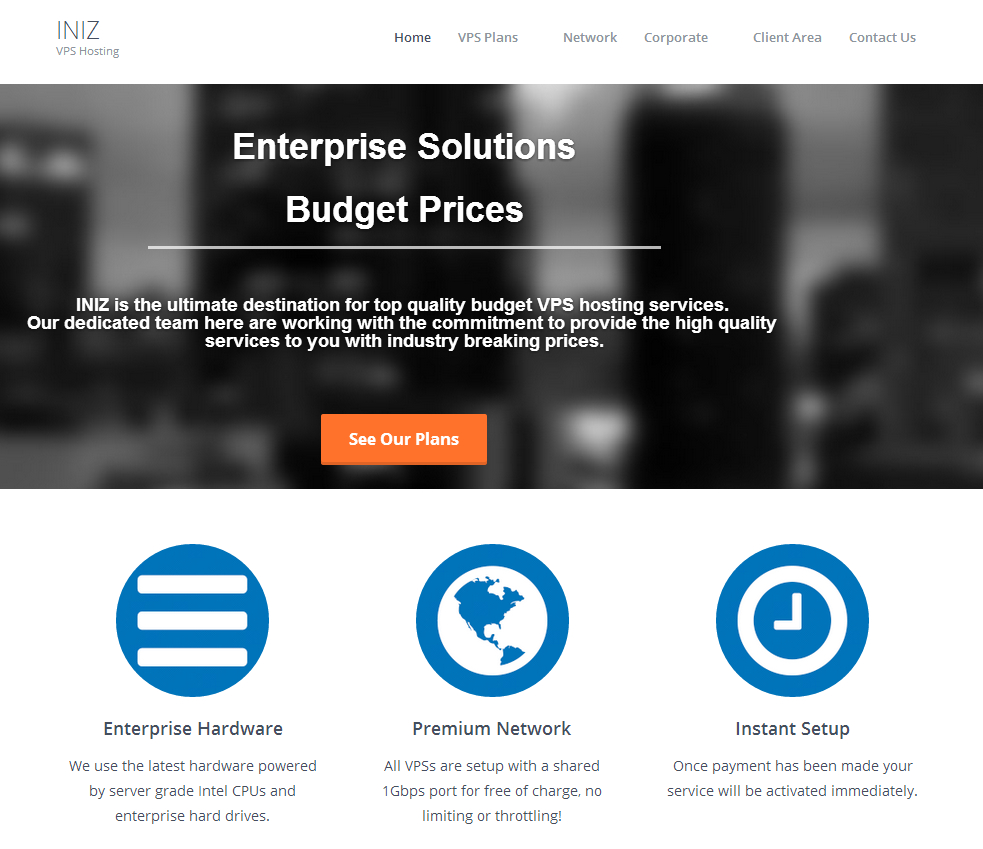 Patrick from Iniz.com sent in some KVM New York, NY offers but don't worry, it is not the only offer. This time there is actually 10 different offers at one time! There is also a KVM offer in NL which will be on a brand new node that will be ready to go on Sunday morning. If you buy a KVM in the Amsterdam location, expect setup times up to 24 hours.
Are you a OpenVZ guy/girl? Those offers are available if you "read more".

New York – KVM


1 CPU Cores
256MB RAM
10GB disk space
250GB Bandwidth
2x IPv4 address
1x IPv6 address
KVM/SolusVM
$20 / Year


New York – KVM


2 CPU Cores
512MB RAM
30GB disk space
500GB Bandwidth
1Gbps uplink
2x IPv4 address
1x IPv6 address
KVM/SolusVM
$3.75 / Month


New York – KVM


3 CPU Cores
1GB RAM
60GB disk space
1,5TB Bandwidth
1Gbps uplink
2x IPv4 address
1x IPv6 address
KVM/SolusVM
$7.00 / Month


Amsterdam – KVM


3 CPU Cores
1GB RAM
100GB disk space
2TB Bandwidth
1Gbps uplink
1x IPv4 address
5x IPv6 address
KVM/SolusVM
Promocode: KVM1G
$6.96 / Month
OpenVZ Offers in New York, NY and Los Angeles, CA
1 CPU Cores
128MB RAM
10GB disk space
250GB Bandwidth
1x IPv4 address
1x IPv6 address
OpenVZ/SolusVM
$7 / Year

1 CPU Cores
256MB RAM
128MB Swap
20GB disk space
500GB Bandwidth
1x IPv4 address
1x IPv6 address
OpenVZ/SolusVM
$14 / Year

2 CPU Cores
1024MB RAM
512MB Swap
40GB disk space
750GB Bandwidth
2x IPv4 address
1x IPv6 address
OpenVZ/SolusVM
$3.50 / Month

4 CPU Cores
2048MB RAM
1024MB Swap
75GB disk space
1500GB Bandwidth
2x IPv4 address
1x IPv6 address
OpenVZ/SolusVM
$7.00 / Month
OpenVZ Offers in AMSTERDAM, NL

2 CPU Cores
1024MB RAM
512MB Swap
40GB disk space
750GB Bandwidth
1x IPv4 address
1x IPv6 address
OpenVZ/SolusVM
$3.50 / Month

4 CPU Cores
2048MB RAM
1024MB Swap
75GB disk space
1500GB Bandwidth
1x IPv4 address
1x IPv6 address
OpenVZ/SolusVM
$7.00 / Month
—————————————————-
Terms of Service & SLA
—————————————————–
Terms of Service
Acceptable Usage Policy
—————————————————–
Network information
—————————————————–
New York, NY (USA) - http://nyc-us.lg.iniz.com
Los Angeles, CA (USA) - http://la-us.lg.iniz.com
Amsterdam, NL (EU) - http://ams-nl.lg.iniz.com